Posts for tag: Extraction
By Peter Brusco DMD
February 03, 2022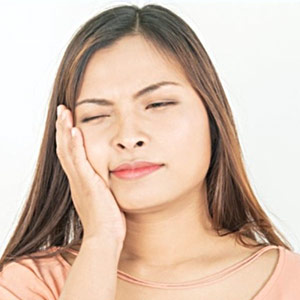 Of the millions of teeth removed surgically each year, the vast majority of them have few if any complications. A small number of patients, however, do experience a particularly discomforting one known as dry socket.
This condition occurs when the blood clot that normally forms in a socket after an extraction fails to form or is lost. The clot helps protect the bone and nerves underneath the socket, so losing it exposes the area to temperature variations, food particles and fluids. As a result, some unpleasant symptoms can develop.
Usually manifesting around the third or fourth day after surgery, these symptoms include a bad odor or taste in the mouth and aching, throbbing pain. Fortunately, the symptoms, which usually fade in one to three days, don't pose a threat to your health. Nevertheless, you could be in for a rough time while it lasts.
So, if it happens, why you? To be honest, some people are simply more susceptible to developing dry socket, especially smokers or women who use certain contraceptives. You're also more likely to develop a dry socket if the tooth in question experienced higher than usual trauma because of difficulties in removing it. And, you could damage the forming clot if you vigorously chew or brush your teeth too soon after your procedure.
To avoid this, dentists usually recommend rinsing your teeth the first day after surgery rather than brushing the extracted area, and to chew gently, preferably on soft foods using the other side of the mouth. You might also avoid hot liquids and smoking for a few days.
If despite your best efforts you do develop a dry socket, give your dentist a call. Your dental provider can irrigate the socket and apply a medicated dressing that can speed up healing (you'll have to change every few days until symptoms abate). The dressing will provide pain relief to dramatically reduce your discomfort within just a few minutes, which you can supplement with ibuprofen or similar medication.
In time, the pain and other symptoms associated with a dry socket will subside. In the meantime, you and your dentist can take steps to make sure you're as comfortable as possible.
If you would like more information on dry socket, please contact us or schedule an appointment for a consultation. You can also learn more about this topic by reading the Dear Doctor magazine article "Dry Socket: A Painful but Not Dangerous Complication of Oral Surgery."
By Peter Brusco DMD
March 11, 2019
How your dentist in Kinnelon, New Jersey, can save your smile
It may seem strange, but sometimes removing a tooth is the right choice. Common causes include if a tooth is severely decayed and can't be repaired with a filling, or if there is infection around the tooth that can spread to healthy teeth and tissue, dramatically affecting the overall health of your smile. You may also be in a lot of pain!
There are common signs and symptoms indicating you may need to have a tooth extracted. Read below to learn more, and contactDr. Peter Brusco in Kinnelon, New Jersey, if you feel that you could use treatment.
More about Tooth Extraction
Many teeth can be repaired with a simple dental filling, with or without root canal treatment. However, there are teeth that remain painful even after treatment. If you have periodontal disease, that can also lead to the need for tooth extraction.
You may to have a tooth extracted if you have:
Severe pain after a dental filling has been placed
Severe pain after root canal treatment
Lost bone support around a tooth, making the tooth mobile
You may need a tooth extraction for reasons other than pain and disease, for example, teeth are often removed before orthodontic treatment. If there is not enough room, or if it will make moving other teeth into correct position faster and easier, your orthodontist may suggest removing specific teeth.
The most common healthy teeth to be removed, however, are wisdom teeth. This is your third set of permanent molars, and most people don't have room in their jaws for them. As a result, wisdom teeth are often removed between the ages of 18 and 25. If wisdom teeth are left in, there is a chance they will form cysts which can cause bone destruction and other issues.
Give us a Call!
These are just a few of the reasons why you might need a tooth extraction. Only your dentist knows for sure whether a tooth should be taken out or not. If you have a painful tooth, don't wait for it to get worse. Instead, just pick up your phone and call Dr. Peter Brusco in Kinnelon, New Jersey. Dial (973) 838-5862 today and save your smile!