Posts for tag: crown lengthening
By Peter Brusco DMD
September 17, 2021
Crown lengthening is a cosmetic dentistry procedure done to improve the appearance of your smile, specifically by creating a less gummy smile. If you are unhappy with the way your smile looks due to the excessive appearance of gums or small teeth, it may be time to consider cosmetic dentistry in Kinnelon, NJ, with Dr. Peter Brusco. While there may be a few different reasons for why your smile appears gummy, there are solutions to improve the appearance of your smile with help from a cosmetic dentistry professional today!
What Is A Gummy Smile?
A gummy smile also referred to as excessive gingival display, is a condition in which a significant amount of gum tissue shows when you smile. This can create the effect of smaller, misshapen teeth because the gum tissue is covering up a majority of the contours of your teeth. Following an evaluation, your dentist will be able to help to determine the cause of your gummy smile and the right treatment option for you. Typically, treatment for a gummy smile involves a crown lengthening procedure, which is a form of cosmetic dentistry in Kinnelon, NJ.
What Is Crown Lengthening?
Crown lengthening, also called esthetic crown lengthening, is done to give people immediate improvement in the look of their smile. The crown of your tooth refers to the exposed part of your tooth sitting above the gumline. Through the removal of gum or bone tissue, crown lengthening reduces the amount of visible gum tissue when you smile and transforms the appearance of small teeth into regular-sized, naturally contoured teeth. For a less gummy smile, your dentist may recommend crown lengthening for you.
Get Help Today!
If you are tired of your gummy smile affecting the way you look and feel each day, then it may be time to consider cosmetic dentistry in Kinnelon, NJ. For additional questions or to make an appointment for crown lengthening today, please call Dr. Brusco at (973) 838-5862.
By Peter Brusco DMD
January 08, 2019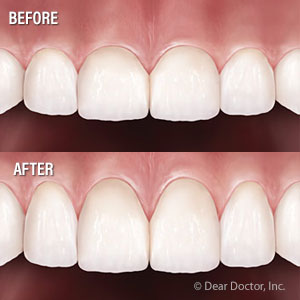 While tooth decay is a potential problem at any age, the risk increases as you grow older. Not only are senior adults more susceptible, decay is often more difficult to treat. That's because cavities can occur at or below the gum line, often due to gum recession.
If that's the case, we won't be able to fill the cavity in the usual way because the gum tissue is in the way. To make it possible to treat, we may need to perform a minor surgical procedure known as crown lengthening.
As the name implies, the procedure helps expose more of the crown, the tooth's visible part, from the surrounding gum tissue. In basic terms, we're repositioning the gum tissue away from the biting surface of a tooth to make room for a filling. It's also useful for improving a tooth's appearance by making it look longer, or creating room for a crown or other dental restoration.
After applying a local anesthesia, the dentist (or periodontist, a specialist in the gums) creates a tiny flap of gum tissue with a series of incisions. This allows the dentist to move the affected gums out of the way to access the underlying bone. The dentist then reshapes the bone to adequately support the gum tissue when it's finally repositioned to expose the crown. In its new and improved position, the dentist sutures the gum tissue in place.
For a few days afterward, the patient will need to restrict their diet to soft foods, avoid strenuous activities and apply an ice pack to help reduce swelling the day of surgery. They will also prescribe a pain reliever and possibly an antibiotic to reduce the chances of infection.
While most people return to normal activities a few days later, you'll usually have to wait a few weeks for the gums to heal before undergoing any further treatments for the affected teeth. But even with the wait, crown lengthening could make it possible to not only save your tooth but improve your smile as well.
If you would like more information on treating tooth decay, please contact us or schedule an appointment for a consultation. You can also learn more about this topic by reading the Dear Doctor magazine article "Crown Lengthening: This Common Surgical Procedure Restores Function and Improves Appearance."
By Peter Brusco DMD
June 01, 2018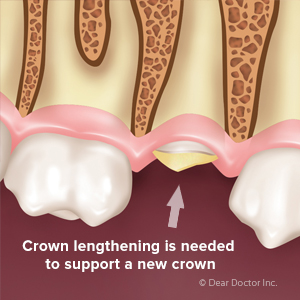 A crown — a life-like "cap" made of dental porcelain that permanently covers an existing tooth — is an effective way to restore a still-viable decayed or broken tooth's appearance. Properly fitting the crown over the tooth requires some healthy tooth structure above the gum line.
But what if the tooth has broken down to the gum line? In this case, we would need to perform a common procedure known as crown lengthening to expose more of the tooth.
Crown lengthening is a minor surgical procedure performed with local anesthesia to numb the tooth, surrounding gum tissues and supporting bone. We first make tiny incisions inside the gum-line on both the cheek and tongue side of the tooth to expose the bone, and then carefully remove a small amount of bone from either side of the tooth; this will expose or "lengthen" the tooth. Once finished, we suture the gum tissue back into place with self-dissolving sutures against the bone and tooth.
Most procedures take only sixty to ninety minutes, and the mild discomfort afterward is usually managed with pain relievers like ibuprofen. While the gum tissues may appear to be healed after a week, we typically wait six to eight weeks to perform the final crown restoration to give the tissues time to fully mature.
Crown lengthening may not work in all situations, especially with a severely fractured tooth. In these cases, we may need to evaluate the long-term viability of the tooth and consider other restorative options. Depending on your bite, it may also be necessary to treat with orthodontics first: not only will the tooth move into a better position, but the treatment may move both the gum and bone down with the tooth. Subsequent crown lengthening will then only affect the intended tooth and not adjacent ones, resulting in a more even smile.
The first step is for us to decide after a thorough examination if you would benefit from crown lengthening. If so, this minor surgical procedure could pave the way for better mouth function and a more attractive smile.
If you would like more information on crown restorations, please contact us or schedule an appointment for a consultation.