Posts for tag: veneers
By Peter Brusco DMD
January 03, 2020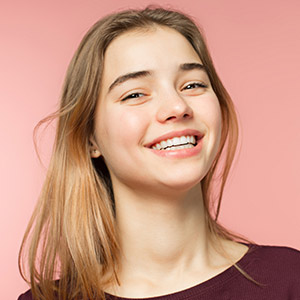 Just like adults, teenagers experience chipped, stained or disfigured teeth. And during a life stage where issues with appearance can be acutely painful, these defects call out for a solution.
And, there is one: porcelain veneers. These thin wafers of custom-made porcelain are bonded to the front of teeth to cover dental flaws. They're one of the least invasive—and most affordable—methods for smile enhancement.
There is one caveat, though: The affected teeth will most likely need alteration. Veneers can look bulky when bonded directly to teeth, so we compensate for this by removing some of the surface enamel. This changes the tooth permanently, to the point that it will always require a veneer or some other form of restoration.
But although this may be a minor issue for an adult, it could pose a problem for a teenager. That's because the pulp, the innermost layer of a tooth containing nerves and blood vessels, is larger in a younger adolescent tooth than in an older adult tooth. Because of its size, it's closer to the tooth's surface. During enamel reduction for veneers on a young tooth, this could lead to inadvertent nerve damage. If that happens, the tooth may need a root canal treatment to preserve it.
If the adolescent tooth needing a "facelift" has already been root canaled or sustained significant structural damage, then altering it for veneers may not be too concerning. Likewise, if the teeth are smaller than normal, the bulkiness of a veneer may actually improve appearance and not require alteration. We'll need to examine a young patient first before making any recommendations.
There are also alternatives to veneers for improving smile appearance. Enamel staining could be enhanced temporarily with teeth whitening. Small chips can be repaired with bonded dental material, or in skilled hands be used to "build" a veneer one layer at a time with no enamel reduction. Although not as durable as regular veneers, these bonding techniques could buy time until the tooth is more mature for veneers.
Whichever path we take, there are effective ways to transform a teenager's flawed tooth. And that can make for an even better smile.
If you would like more information on dental restorations for teenagers, please contact us or schedule an appointment for a consultation. You can also learn more about this topic by reading the Dear Doctor magazine article "Veneers for Teenagers."
By Peter Brusco DMD
November 13, 2018
Dental veneers offer a convenient and effective solution to dramatically improving the appearance of your smile. Dental veneers might be right for you if you wish to conceal cracks, chips, or other imperfections in teeth. A dentist can place dental veneers on the fronts of problem teeth and give you a brand new smile. Dental veneers are custom made for each patient for the most natural look possible. Dr. Peter Brusco is your Kinnelon, NJ, family dentist for dental veneers.
What are Dental Veneers?
Dental veneers are thin pieces of porcelain that are placed over the fronts of problem teeth to give those teeth a completely new look by covering any imperfections. Porcelain is a close match for tooth enamel, so dental veneers look completely natural. Further, the color, size, and shape of each dental veneer are customized to perfectly fit the tooth it will be covering, while also blending in with the surrounding teeth for the most natural look possible.
Benefits of Dental Veneers
Your smile can benefit in several ways with dental veneers. Teeth with a range of cosmetic flaws can be transformed simply by setting dental veneers in place to conceal the imperfections. A major benefit of dental veneers is that placement is permanent so the veneers remain securely in place, even when speaking and eating. The dental veneers will not come loose or slip out of place. Additionally, the color, size, and shape of dental veneers are all customized for a perfect match and fit.
Another benefit dental veneers offer is that they conceal a variety of cosmetic flaws. Your Kinnelon, NJ, family dentist can help you decide if dental veneers are right for you. Some of the cosmetic concerns dental veneers can address include:
Stains and discolorations
Chips and cracks
Misshaped teeth
Small gaps between teeth
Rough or uneven surfaces
To learn more about how dental veneers could improve your smile, schedule an appointment with Dr. Brusco, your Kinnelon, NJ, family dentist, by calling the dental practice at (973) 838-5862.
By Peter Brusco DMD
May 17, 2017
How veneers from Kinnelon can enhance your smile
Are you embarrassed to smile because of broken teeth? Does your smile make you look older? If you answered yes to these questions, you deserve to investigate the most versatile cosmetic dental treatment available, dental veneers! Dr. Peter Brusco in Kinnelon, NJ, wants to help you discover how veneers can renew your smile.
There are many reasons your smile may not be as beautiful as you remember. One of the main culprits is aging, which can cause your teeth to look yellow and dull. Bad habits like biting your fingernails, chewing ice or opening packages with your teeth can also cause damage. If you use tobacco products or drink coffee, you know how stained your teeth can get.
There is one cosmetic procedure that can handle it all! Porcelain veneers can fix many dental issues, renewing and rejuvenating your smile. Veneers are the perfect choice for teeth that are:
Broken or damaged from trauma
Chipped or worn down from aging
Cracked or badly-shaped due to genetics
Spaced apart or overlapped due to genetics
Stained or discolored from lifestyle or medications
Porcelain veneers are thin sheaths of sparkling, natural-looking porcelain which reflects light, just like your natural teeth. Your veneers from Dr. Brusco will usually take between two and three appointments, including a consultation appointment, tooth preparation appointment and permanent cementation appointment.
When you choose porcelain veneers, you can count on:
A naturally-beautiful smile, because veneers look just like your existing teeth
A permanently beautiful smile, because veneers resist stains making them a perfect choice for smokers and coffee drinkers
A conservative treatment, because very little tooth surface is removed, just enough to accommodate the thickness of the veneers
You can have a renewed, rejuvenated smile more quickly than you ever thought possible. If you have a special event coming up like a wedding, class reunion or even an important job interview, consider porcelain veneers. A great smile makes an outstanding first impression!
Isn't it time to start renewing your smile with porcelain veneers? Your new smile is just a phone call away from Dr. Brusco in Kinnelon, NJ. Find out more about porcelain veneers and additional cosmetic services by calling today!