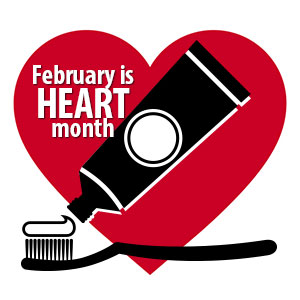 It's February and time for a little heart love. And not just the Valentine's Day kind: February is also American Heart Month, when healthcare providers promote cardiovascular health. That includes dentists, because cardiovascular health goes hand in hand with dental health.
It just so happens that February is Gum Disease Awareness Month too. If that's a coincidence, it's an appropriate one: Although different in nature and health impact, heart disease and gum disease are linked by a common thread: chronic inflammation.
Inflammation (or tissue swelling) in and of itself is beneficial and often necessary. When cells in the body are injured or become diseased, the immune system isolates them from healthier cells through inflammation for the protection of the latter. Once the body heals, inflammation normally subsides.
But conditions surrounding both heart disease and gum disease often prevent a decrease in inflammation. With heart disease, for example, fatty deposits called plaque accumulate within blood vessels, impeding blood flow and triggering inflammation.
A different kind of plaque plays a pivotal role with gum disease. Dental plaque is a thin biofilm that builds up on tooth surfaces. It's home to bacteria that can infect the gums, which in turn elicits an inflammatory response within those affected tissues. Unless treated, the infection will continue to grow worse, as will the inflammation.
The bad news is that these two sources of chronic inflammation are unlikely to stay isolated. Some recent studies indicate that cardiovascular inflammation worsens gum inflammation, and vice-versa, in patients with both conditions.
The good news, though, is that treating and managing inflammation related to either condition appears to benefit the other. Patients with cardiovascular disease can often reduce their inflammation with medical treatment and medications, exercise and a heart-friendly diet.
You can also ease gum disease inflammation by undergoing dental plaque removal treatment at the first signs of an infection. And, the sooner the better: Make a dental appointment as soon as possible if you notice swollen, reddened or bleeding gums.
You can lower your gum disease risk by brushing and flossing daily to remove accumulated plaque, and visiting us at least twice a year for more thorough dental cleanings and checkups. If you've already experienced gum disease, you may need more frequent visits depending on your gum health.
So this February, while you're showing your special someone how much you care, show a little love to both your heart and your gums. Your health—general and oral—will appreciate it.
If you would like more information about gum health, please contact us or schedule a consultation.